IN MEMORIAM
Alfred Bork
Professor of Information and Computer Science
UC Irvine
1926 – 2007
Source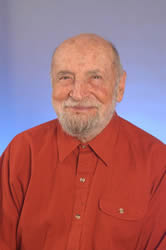 Alfred Bork was born September 18, 1926 in Jacksonville, Florida and died on December 18, 2007.
Alfred earned his graduate degrees in physics at Brown University. Prior to his tenure at UC Irvine, he was a scholar at the Dublin Institute for Advanced Studies, and faculty at the University of Alaska, Fairbanks, Reed College and Harvard University.
Alfred's career with UCI began on October 1, 1968 with joint appointments in ICS and physics. Passionate about the use of computers in education, Alfred contributed to the early development of educational programs in both academic disciplines before transferring his appointment to ICS in 1983. Alfred was a pioneer in the field of educational computing in which computational technology is harnessed to improve education. He specialized in highly interactive techniques for learning and the application of graphics and multi-media to learning. He created systems for interactive instruction of concepts that incorporate appropriate pedagogical, social and motivational components. He was also influential in educational policy in which he maintained that technological approaches to teaching and learning would be come inevitably more cost-effective than traditional practices. At the same time, he also stood courageously against naïve technologists who provide short-term computer-based solutions that fall short of long-term educational goals.
Alfred had numerous international collaborations and served as an ambassador for computer education around the globe. He was a consultant to the United Kingdom National Development Programme in Computer Aided Learning, a member of the National Institute of Education's delegation to the People's Republic of China, co-director and keynote speaker at the NATO Advanced Study Institutes on Computers in Science Education, at the Catholic University of Louvain in Belgium and at the San Miniato Conference Center in Italy. Alfred also served as visiting professor at the University of Geneva in Switzerland and ran workshops in many places including China, Japan, Taiwan and for the Colombo Staff College in India and the Philippines. He served four years as chair of the Special Interest Group on Computer Uses in Education of the Association for Computing Machinery.
Alfred was founder and director of the Educational Technology Center on the UC Irvine campus and continued to be active in the center even after his retirement in July 1994 through his development of technology-based learning materials. The Educational Technology Center has many visitors each year and hundreds of requests for information about interactive adaptive tutorial technology. Alfred was actively involved in over 60 of the student-computer dialogs developed by the Center.
Alfred was an outdoor enthusiast and an avid gardener, cultivating 29 varieties of lilies in his rock garden in Alaska. He loved classical music and adored his two devoted longhaired dachshunds. Alfred will be missed for his was a wonderfully unique sense of humor as well as his highly original ideas on a great variety of subjects.
Bork is survived by his wife of nearly 60 years, Annette Bork of Irvine, and their three daughters, Ellen, Brenda, and Carol.
Sandy Irani, Chair
Department of Computer Science (Computing Division)
Debra Richardson, Dean
The Donald Bren School of Information and Computer Science