<blockquote>'I stumbled upon an article from Dr. John Grohol over at
PsychCentral
showing the most heavily prescribed psychiatric medications in the U.S.:
<blockquote>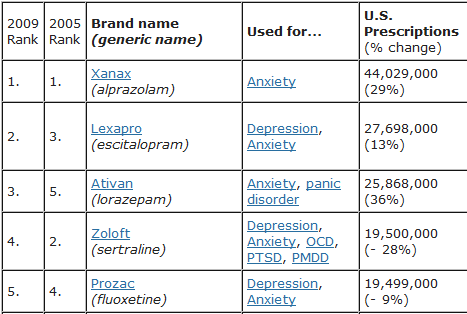 </blockquote>
From 2005 to 2009, the biggest jump occurred with Xanax, a medication that is largely aimed at helping calm anxiety and anxiety associated conditions. 44 million of these prescriptions were given out in 2009. Without a doubt this economic recession is exacerbating underlying issues with many Americans (Xanax prescriptions jumped 29% from 2005 to 2009 even though our population only increased by 4%).'
- Dr. Housing Bubble,
The great American mortgage casino...
, May 1st, 2010</blockquote>