'I first met Don and Annis Scott at a cosmology conference in Portugal in 2005. I was immediately struck as much by Don's calm, measured style of presentation as by his subject matter: Electricity in the cosmos. Although I had gone out of my way to take post-graduate courses in both electricity and magnetism, I hadn't until that time made the connection with astrophysical structures. Don's paper was for me and most of the people in the auditorium a tantalisingly novel approach, and I resolved to discover more. Our pleasant informal group discussions at meal times led to a respectfully distant friendship and correspondence that has lasted to the present day. One thing was clear to me when I heard that Don would be presenting again at EU 2014: Whatever the topic, it would reflect Don's awe at the world about us, and illustrate how well he grasped the logical simplicity of natural laws. I asked him to explain how his presentation would fit in with the EU mission. This is what he told me:

"I have thought for many years that the detailed (and I think quite excellent) qualitative descriptions of what EU theorists believe is occurring in the cosmos needed more mathematical infrastructure than it had. Even good people like you, Hilton, challenged us to 'show us the math' to support our claims. So my present efforts are to supply some of that necessary mathematical formulation to provide strength to our ideas and make them more acceptable to the astronomical power-structure." '
<center>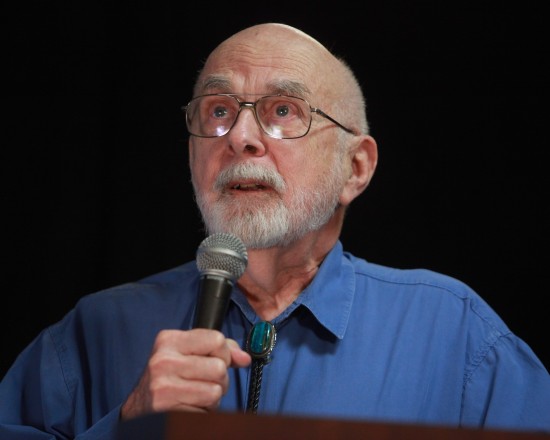 </center>
<center>DR. DONALD SCOTT
by Dr. Hilton Ratcliffe
(
Source
, 2013)</center>
Electric Universe stalwart Donald Scott will be presenting his latest thoughts at EU 2014. In his own words, "My talk is a presentation of the results I came up with after solving two coupled differential equations generated by asking what shape a stream of electrical charges will take on if it is left alone (free of external forces) in space. The results are consistent with observation and also with earlier descriptions of investigators such as Kristian Birkeland and Hannes Alfvén. But they also expand those earlier results to show that these flows (Birkeland currents) extend much farther out into space than previously thought. These currents are formed by concentric hollow cylindrical surfaces of charge. And they are wrapped by a (much more complicated than previously reported) magnetic-field structure."
Clearly, Dr. Scott is a man for whom experiment and observation lead theory, and nothing could be more relevant for this year's conference—All About Evidence.
After a childhood spent alongside the Hudson River in New York state during which he had built his first telescope (a 6" Newtonian reflector), Don enrolled at the University of Connecticut at Storrs for a degree in electrical engineering. After graduating with a BSEE, Don spent a year working for General Electric on large steam turbine generators and lightning arrestors. A hunger for further knowledge soon compelled him to leave GE and return to UConn to pursue his masters. It was during this stint at university that Don realised that he liked teaching more than industry, and the die was cast. Don and his wife Annis moved to the University of Massachusetts in Amherst so that he could take up a position as instructor in the electrical engineering department. "As far as I know," Don says, "I am the only faculty member to have been awarded tenure at UMass before attaining a PhD which I earned from Worcester Polytechnic Institute in 1968."
There he remained for 39 distinguished years. Professor Scott retired in 1998, and he and Annis moved to Arizona, ultimately finding their current home in the city of Scottsdale. It might well have been named after the Scotts, but of course it wasn't. Scottsdale is famous for at least two things—those amazing Arizona night skies, and the most spectacular lightning storms imaginable. What better place for Don to retire? He had an observatory built onto their home, and there he could indulge his hobbies of observational astronomy and astrophotography. When the night skies clouded over, Don was happier still, because then he could experience the energy of electrical discharge in the heavens, and feed his abiding avocation in the fields of plasma physics and Electric Universe theory.
I first met Don and Annis Scott at a cosmology conference in Portugal in 2005. I was immediately struck as much by Don's calm, measured style of presentation as by his subject matter: Electricity in the cosmos. Although I had gone out of my way to take post-graduate courses in both electricity and magnetism, I hadn't until that time made the connection with astrophysical structures. Don's paper was for me and most of the people in the auditorium a tantalisingly novel approach, and I resolved to discover more. Our pleasant informal group discussions at meal times led to a respectfully distant friendship and correspondence that has lasted to the present day. One thing was clear to me when I heard that Don would be presenting again at EU 2014: Whatever the topic, it would reflect Don's awe at the world about us, and illustrate how well he grasped the logical simplicity of natural laws. I asked him to explain how his presentation would fit in with the EU mission. This is what he told me:
"I have thought for many years that the detailed (and I think quite excellent) qualitative descriptions of what EU theorists believe is occurring in the cosmos needed more mathematical infrastructure than it had. Even good people like you, Hilton, challenged us to 'show us the math' to support our claims. So my present efforts are to supply some of that necessary mathematical formulation to provide strength to our ideas and make them more acceptable to the astronomical power-structure."
And his personal goals in life? "To live as long as I can in a healthy state of mind and body with my beloved Annis. If I can live long enough to see the ideas embodied in the EU theories gain a modicum of acceptance in the world of astronomy and astrophysics, that will be a rich bonus."
By his works shall you know him…
Context
'..ignoring the fruits of 150 or so years of electrical science.' - Donald E. Scott
(The Electric Universe) - '..the galactic core..'
(Global Fusion Energy) - '..the potential economics of LPP reactors .. more appealing than other approaches..'